Marlborough and District hosted Match 3 of the Wessex League on Sunday 7 July.
To swing things around a little Robbie competed in the Discus and the Shot Put (A first for both events) along with his usual 1500m. The weather conditions were ideal for a day down the beach, blue skies, blazing sunshine and a little breeze. Though perfect beach weather, not exactly suited for running especially when the 1500m is held at 12:30 at the peak of the days heat (28 degrees).
Robbie's first event of the day, the discuss, saw him get two PB's, which to be fare giving that he's never done it before wasn't hard.
Throwing a – 0000 b – 0000 c – 0000 (Waiting for confirmed distances)
So as the heat of the day builds Robbie starts to warm up for the 1500m the boys are lined up the gun goes and immediately a burst forward sees 3 boys taking the lead, Robbie sat on the shoulder of the leading runner with Hampshire School team mate Ben ? sat on Robbie's shoulder. First 300m completed in a very quick 50secs setting the pace for a fast energy consuming battle. The first place runner starts to pull away, and despite a lot of sideline encouragement Robbie doesn't seem to be able to step up the pace to keep up, and as they come in to the pen-ultimate lap, Ben steps up and passes Robbie, Robbie struggling for that little extra seems content top let him go, and slots in nicely behind him, but as they head on to the finishing straight running for the bell, Robbie finds a burst of energy and kicks early, catching and over taking ben who struggles to kick up the pace and as he passes the line Robbie kicks again, the gap between himself and Ben extending slowly but surely. The first place runner is still out there, some 15m in front and though the gap seems to close, it is hardly sufficient to make a difference. The final straight and Ben kicks to chase Robbie down but Robbie still has enough left and flies across the line 2 seconds in front of Ben.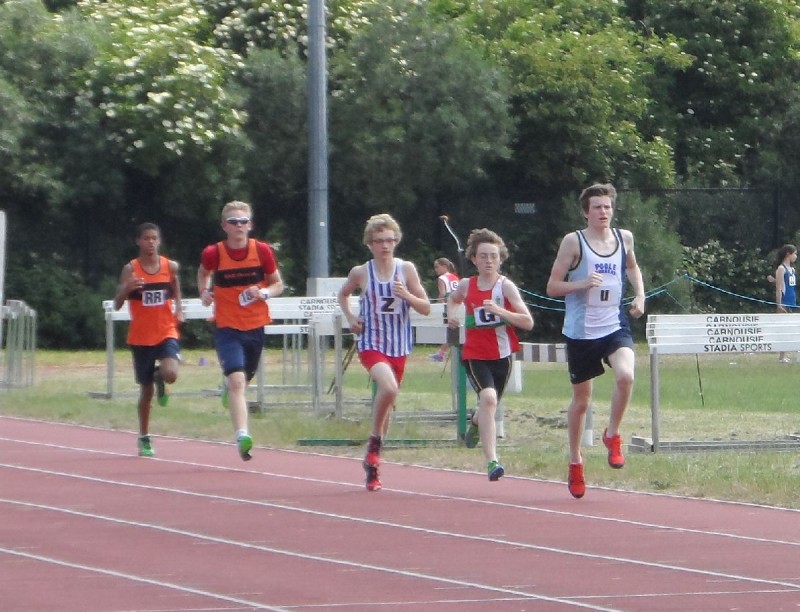 It wasn't until after the race that Robbie tells me the organisers had merged the u20 and U15 races together, the first place runner was running in the U20's not the U15.
Robbie won in a new PB time of 4'38" in ferocious heat.
The day wasn't complete though, not yet. A 3 hours wait for the Shot Put competition to start saw Robbie get 2 more PB's (see Discus explanation).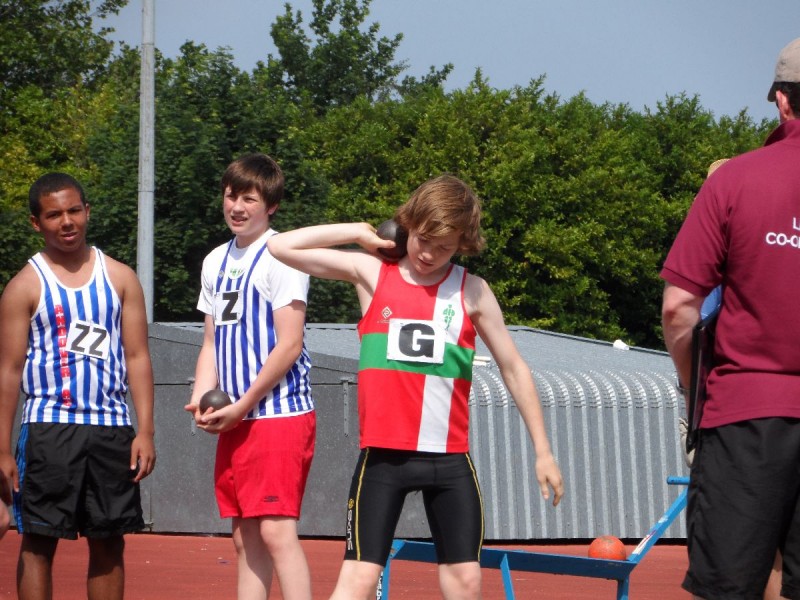 So in the blazing sun of a British heat wave Robbie walks out of Swindon track proud to have achieved 5 PB's in one day.